PC Requirements
Please check your PC meets the requirements below.
Minimum
Recommendation
CPU pentium 3 600MH
RAM 512MB
VGA 3D Acceleration

CPU pentium 4 1.8MH
RAM 1GB
VGA 3D Acceleration

Client Download
Click below to download client program.

Installation
Double click the downloaded file to install the game.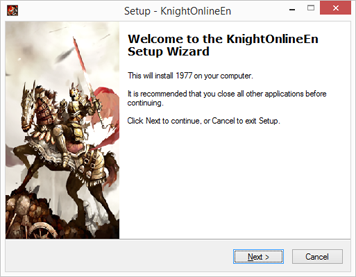 Option Setting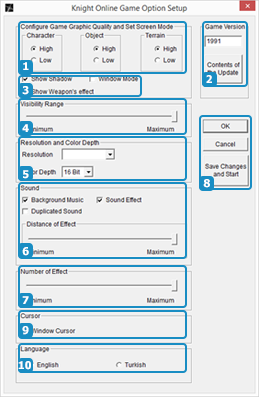 1. Game Graphic Quality and Screen mode Settings
Enable higher definition on characters, objects, and land. The game may run more slowly due to increased polygon usage on high setting.

2. Game Version
Adjusts the current game version. Usually, the version is set automatically once Launcher.exe executed.

3. Shadow Usage: Click to enable in-game Shadows.
Window Mode: Click to enable windowed mode. (Default is full screen)
Weapon effect: Click to enable particle effects on weapons.

4. Visibility Setting
Increase to see farther into the distance. The game may run more slowly due to increased polygon usage on higher distance settings.

5. Screen resolution and Color
Sets screen resolution and color in the game.

6. Sound Setting
Sets music and sound effects in the game.

7. Number of effect setting
Determines how many effects can be displayed at once. May decrease game performance during large battles

8. Confirm: Save current options and close.
Cancel: Cancel changes
Save setting and then Run: Save current options then starts the game immediately.

9. Cursor Setting
Sets Cursor shape.

10. Language Setting
Sets Language game runs in.


Game Start