Hail Knights!
The Knight Online Team is proud to present the Achievement System! This works much like the trophy system on the latest game consoles. You can earn rewards for completing tasks while playing Knight Online.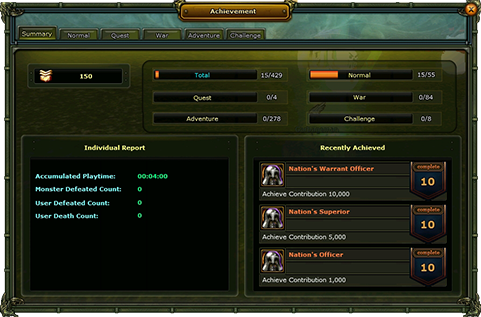 The Achievement System Window can be accessed by going to the main menu and selecting &quotAchieve&quot or type the command [/achieve] in the chat window.
By completing achievements you can gain any of the following: a Title for your character, Achievement Points, or an item. That's right! Some achievements will reward the player with items. The item can be collected from the Achievement window after completing the necessary achievement.
When you gain a title for your character, it can help improve your character's abilities. Titles are earned when certain achievements are completed or when a certain number of achievement points are fulfilled. A character's title and ability can be modified using the 'Achieve' tab in the Character Info window (shortcut key: U)